You are here :
Study
Stenden University of Applied Sciences - Leeuwarden
University Information
Location:
Leeuwarden
Type:
University of Applied Sciences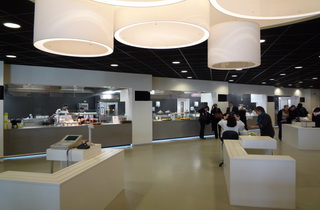 Stenden University of Applied Sciences (formerly known as CHN) with its main campus in Leeuwarden, is a dynamic and truly international institute. With approximately 10,000 students of which 25% is coming from outside the Netherlands, Stenden is one of the most international places to study in Europe, even in the world. Stenden hosts the largest hotel management & tourism management studies university in Europe and also offers management studies in the fields of leisure, business, logistics, retail and media and entertainment. Service management is the core of our institute.

Join Stenden's Grand Tour!
Discover the world while you study. Stenden's Grand Tour creates a unique situation that enables you to develop your intercultural and personal skills. Going on Grand Tour means you will follow a part of your study at one of our International Branch Campuses, in South Africa, Qatar, Thailand or Bali. At each campus we work on a modular basis with our Problem Based Learning (PBL) system. Our teachers and students make studying at one of the branch campuses truly an international experience! There is a whole range of elective modules to choose from for students in our bachelor programmes.
Stenden believes in an international approach to education to ensure a swift integration into future international working fields. 97% of IHM (international hotel management) graduates find employment or get access to a Master's degree within just 3 months after graduation. Stenden IHM students run and manage a 28-bedroom 4* university hotel on campus including restaurants and a convention centre. The combination of academics and practical (managerial) experience gives students not only knowledge but also inevitable skills. With 10.000 IHM alumni working around the globe Stenden provides its students with an excellent network. The programme is designed and constantly evaluated by an advisory board of industry leaders to maintain tailored to meet industry needs.

In addition to the BBA International Hotel Management, Stenden offers 9 others bachelor and 3 Master's degrees in English. Problem Based Learning or PBL is the cornerstone of our education. Students tackle real life cases and work in groups on problem solving (Problem Based Learning) which is another example of our link to real world.
For more information about courses at Emmen, please click here.


Facilities:
Stenden University offers a wide range of facilities to its students. The following applies to the Leeuwarden Location:
Congress- and event office Meeting U
Instituut Service Management (ISM)
Stenden University of Applied Sciences hotel
In-house job agency Randstad
Contemplation Center
Food & Beverage Experience Center
ABN-AMRO in house bank shop
Entry Requirements:
5 GCSE subjects plus 2 A-level passes
Visit the Stenden website here.
Other courses at Stenden University of Applied Sciences - Leeuwarden
Subject: Business
Subject: Management
Subject: Tourism